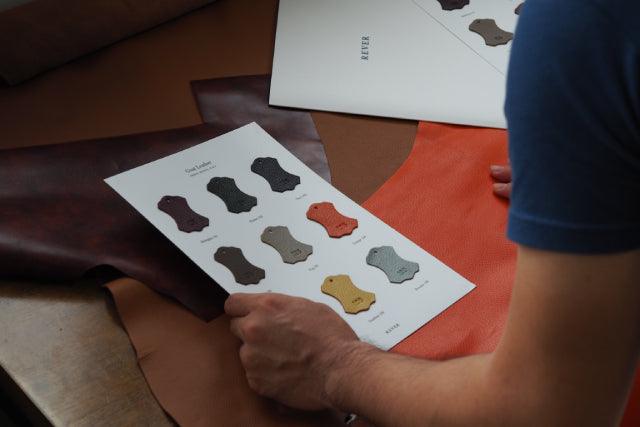 Subtle Differences Between Leather Types Explained
Leather can come from a variety of sources, and the hide which they are sourced from results in subtle differences. While all full-grain leather tends to have similar strengths and durability, the type of leather and treatment can result in subtle visual and textural differences, which is what makes leather so interesting and unique. Here are the subtle differences in the different types of leather we use explained.
Milled, Calf Leather | Italy
Calf leather, as the name implies, is leather made from calfskin. This leather typically has a finer grain and smaller pores than leather made from older cows. One of the hallmarks of calf leather is its weight and texture– this leather tends to be lighter in weight and more supple. The hide this leather is produced from has higher elasticity and can achieve a smoother finish. This Italian leather undergoes a milling process, in which it is tumbled in a large drum, giving it a softer, supple texture. The signature pebbled appearance on the leather surface is achieved during this process as well.
Semi-Aniline, Goat Leather | France & Italy
Goat leather is known to be one of the finest leathers available. Goat skin leather has been highly sought after by bookbinders since the Shakespearean era. This leather is known for having one of the most resilient surfaces, with a pronounced, natural grain. Goat leather has iconic longish, pebbled grains and absorbs colour better than other hides. The unique, natural patterns of this hide are visible on its surface– this semi-aniline leather has been treated minimally, using only a thin layer of pigment to provide protection from dirt and solvent.
Embossed, Bovine Leather | Germany
Bovine leather is one of the most common sources of leather, sourced from any cattle. The commonness of bovine leather is attributed to being highly sought after for its quality. This type of leather is stiff and firm, with a hardy surface. The scratch-resistant surface makes it excellent for everyday use, which tends to be more prone to wear-and-tear. The full-grain bovine leather undergoes minimal alterations to retain its natural strength, with grains embossed to highlight the beautiful, regular grains that are characteristic of bovine leather.
Shrunken, Calf Leather | France
This calf leather has a similar quality to milled, calf leather but undergoes a shrinking process. This shrinking process pulls the leather closer together to create pronounced, heavy grains and enhance the veining, to create a beautiful, deep-textured surface. The shrunken leather is extremely durable and low maintenance, whilst maintaining its soft and supple touch.
Conclusion
Leather is a highly durable and beautiful material that comes in many variations. These are some popular leathers used to make luxury leather bags in Singapore, among other high-quality leather goods. From calf to goat, these leathers are produced in renowned tanneries that have mastered the art of leather production, allowing us to design elegant Rever accessories that add a touch of sophistication to any look. As such, you have come to the right place if you are looking for stunning personalised leather gifts in Singapore.