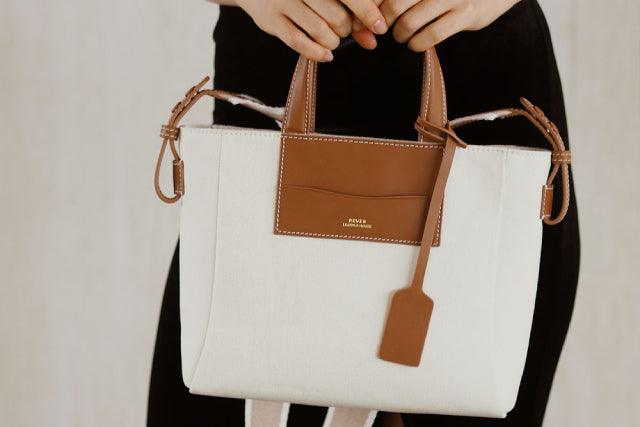 Bag Talk: Why The Daley Mini Tote Bag Is A Must In Your Closet
The Daley Mini Tote Bag is here, and it is magnificent. A canvas bag with Rever's signature leather and canvas combination, this bag is designed with a front pocket that's inconspicuous and deep enough to fit your phone and provide simple access.
With a removable shoulder strap that can be clipped on for casual outings, this bag is made for people on the go. Tote bags have also started to come back in recent years, with people claiming them to be better than a backpack.
With the Daley Mini Tote Bag, it will be a must-have in your daily life, and you will want to bring it everywhere you go. From its immense versatility and its convenience, what is there not to love in this bag?
Easier to carry 
This may seem like a no-brainer but hear me out. Totes often include pockets and sections, making it simple to stay organised while navigating crowded cities like Singapore. It is not different from the Daley Mini Tote Bag as it is designed with a back pocket, making it easier for users to access their essentials on the move.
Wallets, keys, and any other trinkets will be much simpler to reach with a tote bag. Get yourself a sturdy and fashionable tote bag instead of carrying about two different bags because one will only hold some of your possessions.
Minimal
Picture this; you want to blend in as much as possible when travelling through crowded urban locations for work or leisure. What better way than to carry with you one of our tote bags? Backpacks are not designed to be easy on the eyes, or our feeling of privacy like totes are.
With our tote bag, you can remain fashionable without standing out too much. Do not let the size of the Daley Mini Tote Bag fool you, as it can carry many things. The inside of the bag has different pockets and enough space to hold any everyday items.
It also comes with a removable, light linen webbing shoulder strap that you can use to carry the Daley as a top handle bag for a more upscale appearance or clip-on for a casual day out. With different options on how to handle the load, you can play around with various choices every day.
Mobility
The Daley Mini Tote Bag is small to allow for easier toting and give the user more freedom to move around in their daily life. It is comfortable, lightweight, and not a hassle to bring around.
Tote bags offer excellent mobility and convenience when it comes to storing all your belongings. If you are a person that moves around a lot, it may get tiresome to bring a backpack or large bag everywhere, so opt for the Daley Mini Tote Bag.
Fashionable
With some style options, a tote bag accommodates well with almost every outfit. The neutral colours make it easy to pair with most outfits. As the Daley Mini Tote Bag is made out of timeless canvas material, it will never go out of style and will work as an excellent accessory that gives an extra spark to any look.
Conclusion
The Daley Mini Tote bag is an elegant piece that will undoubtedly swoon at the sight of the pack. At Rever, all our luxury leather bags in Singapore, including the Daley, is made from certified luxury leather from renowned tanneries. As such, you get nothing less than exceptional quality with our products, which also make for suitable leather gifts in Singapore.