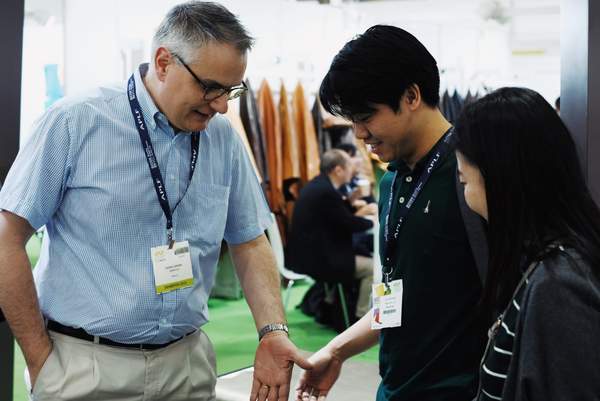 Sourcing Memories –– The Leather Exhibition
Each year, our small team looks forward to catching up with our suppliers and making new friends at the APLF leather exhibition held in Hong Kong. It's a source of inspiration for colours & combination, and also to connect with suppliers and likeminded people all around the world. 
As the exhibition was cancelled this year, we thought we would walk down memory lane to revisit in a couple of photos from last year's trip:  
The exhibition spread over three days, and it was constantly crowded with visitors from all over the world! What a humbling sight feeling connected to an industry so vast. 
The event space is huge (occupying 2 full levels of the Hong Kong exhibition building), and contained many intricate setups like these to explore current trends in the fashion industry.  
This trip was particularly eventful as we met the manager handling the French tannery whom we source our Goat Leathers in person. They are the pioneers in their field and supply fashion houses around the world, including Hermès.
It's inspiring to see his passion for leathers, and we are happy to be using their materials in our collection knowing they not only have such a strong legacy but have so much love for what they do till this day. This was one of our favourite moments to remember! :) 
We are presented with samples of their new variants to be released in that year. 
Given the vast size of the exhibition, we went in with eagle focus and didn't have much time to take photos, which was a pity as many of the vendors had beautiful setups and one can tell a lot of hard work went into it! 
The selection presented by this particular Switzerland based distributor was love at first sight - the suppleness to touch, the balance between neutrality and vibrancy in colour was exactly what we had in mind. 
The same leathers are being produced used by Louis Vuitton, a softer, suppler look from our French Goat collection. This was our favourite of the lot and became the material of choice for our Fench Calf collection. 
As we centred our efforts on connecting with suppliers, most of our interactions were private to focus on the task at hand, though many were so nice we wished we had more than samples & name cards to remember them by!
With everything that's going on in 2020, we are thankful that we have had the chance to make this trip in previous years, and really hope that everyone in the industry is safe and well. We'll make sure to document more works and smiles in our 2021 trip! :) 
I hope you've enjoyed this short entry. Till next time, stay safe everyone! 
After a long six months in the making, our new small leather goods collection has finally launched!   Introducing our New French Calf Leathers At Rever, we work with renowned tanneries from ...
Read more