An elegant key organiser to store your keys neatly and prevent scratches on your phone or valuables. Designed to comfortably fit your palm or pocket. Personalise it with your initials for an intricate touch. Comes with an additional leather loop to attach external remotes or devices.

Holds up to 6 keys depending on the thickness of keys
Screw post length of 2 cm and internal diameter of 0.25 cm
7.5 x 4 x 2.4 cm (3 x 1.5 x 1 in)
(Our screw posts are 0.25cm in diameter. Please ensure that your key holes are large enough before purchasing. You could get them enlarged at a locksmith for a small fee. Rever reserves the right to reject any exchanges or refunds.)
Personalisation Sample:
Gold Foil: Heated Deboss with Gold Foil (Visible imprint with coloured contrast)
Colourless Deboss: Heated Deboss without Foil (Subtle imprint)
*Note: Ribbon wrapping and customising of message card is only available for online orders.
Rever's products comes purposefully packaged in our signature soft microfiber dust bag and lid box for a meaningful and memorable gifting experience, whether it is for the important people in your life or to a personal treat to mark your milestones.
Details of our handcrafting process and commitment to quality materials are written in the box to introduce your loved ones to our products, and to get in touch with us for a intricate unboxing experience.
Add on a personal touch either by hand writing a personal message card or leaving your message for us to handle it for you!
On top of Rever's signature gift packaging, your order will be carefully placed in a postage box for added protection while on its way to you.
Origin: Italy | Type: Goat | Finishing: Semi-Aniline
The unique natural characteristics of this hide can be seen on its surface as only a small amount of pigment is used to provide protection from dirt and solvent. (slightly softer compared to the ones from France)
Full-Grain Leather
Our products are only made with full-grain leather, the finest grade of leather achieved by selecting the best hides to be treated organically with minimal alterations to the surface, hence preserving the natural grains in its purest form. Natural surface variations are defining qualities of our full grain hides that sets them apart from other leathers. 
Leather Care
Clean the leather with a moistened soft cloth. We recommend using our Rever microfibre dust bag which is gentle against the leather grains. When not in use, store the item in our dust bag at a well ventilated area, away from direct sunlight and humidity. For more details, visit our Leather Care page.
Note: Our leathers come in natural shades unique to every handcrafted piece. Any tone or grain variations, natural veining or stretch marks are signature features of organic leather and not to be considered as imperfections.
Customer Reviews
29/05/2021
Jesmine N.

Singapore
I recommend this product
Bay Key Holder
It was a gift & my hubby loves it. Fast delivery too!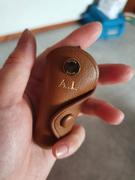 08/06/2020
Zhang R.

Singapore
I recommend this product
Feedback
The item is indeed great. So much improvement made to the previous key holder. The screws are very tight now and not easily loose.
My favourite key holder
This is my 4th key holder from Rever. I've got the 2 older versions as well, for both husbands and various sets of keys. I have to say I like this one the most! The screw is longer so it is a lot more secure than the older models, and because the keys are hanging on one end, it feels neater and cleaner.